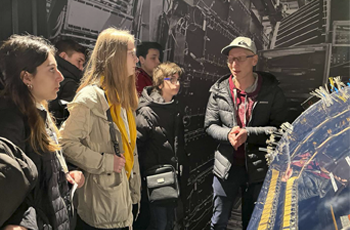 IB Mthiebi students at CERN
Based on the collaboration between IB Mthiebi and the Georgian scientists from the European Organisation for Nuclear Research, a visit to Geneva was planned and organized for students who excelled in the internal school competition.
As part of the visit, the group members familiarized themselves with the main devices and their operating principles within the ATLAS and ALISE scientific-research experiments, and viewed the museum exhibit of the first accelerator NS (Synchrocyclotron) at CERN. They watched the DCVP-Data Centre in action and attended lectures by Georgian and foreign physicists working at CERN on modern physics, scientific achievements and the purpose of this research, the role and necessity of physics in the development of various professions and modern society. The following scientists worked with the children during the visit:
Irakli Minashvili;
Christian Roslon;
Beka Buadze;
Givi Sekhniaidze;
Levan Gongadze;
Monica Coutille, who assisted the students during their visit to the CERN laboratory in France.
As part of the educational tour, the students visited the United Nations office in Geneva. A meeting was held with the Permanent Representative of Georgia to the UN Office, Mr. Alexander Maisuradze, who gave an interesting guided tour to the students.