September-October
November
December
January-February
March
September-October
02.09.2022 – All 70 graduates of IB Mthiebi are students!!! Congratulations on successfully passing the unified national exams! Our students will continue their studies in Georgian and foreign higher education institutions. I wish you a successful student life!
09.09.2022 – The preparatory period of the educational process is taking place in IB Mthiebi:
Administrative and academic staff trainings,
Consultation meetings with invited guests to improve academic direction and teaching techniques,
Content and structural planning of academic and educational processes,
Content and organizational planning of new directions and interesting projects
14.09.2022 – Today is September 14, the new 2022-2023 academic year begins.
It's been 27 years since IB Mthiebi has been celebrating the start of education. September 14 is the beginning of the new school year and the birthday of IB Mthiebi.
So, today IB Mthiebi turned 27 years old, congratulations!
26.09.2022 –  IB Mthiebi Higher School has been continuing  University Hour project, which purpose is to get pupils of the senior grade to know about professions and employment perspectives and obtain skills necessary for the student life. The following events were conducted in the Higher School within framework of this project:    
Head of Ilia State University Technological Enterprising and Innovations Development Centre for pupils majoring in technical fields  and IB Mthiebi Technical School  STEAM educational consultant Avto Mgebrishvili  conducted interesting interactive meeting for future professions and computer achievements in the modern world.
Caucasus University philologist Levan Kakliani lectured for pupils majoring in humanitarian fields on the humanitarian professions topic, specificity of humanitarian studies, employment perspectives and skills necessary for making success in relevant professions.
IB Mthiebi School Head of Natural Sciences chair Nana Kobakhidze conducted cinema representation and discussion for critical thinking development for pupils majoring in natural sciences under the topic: climatic changes and related problems.  
27.09.2022 – IB Mthiebi Higher School humanitarian chair starts large educational public project – the electronic journal issue, which will be managed by Gia Murgulia.
The presentation was conducted on this theme and pupils majoring in humanitarian fields got aware about this project.
The project is based on the humanitarian thinking grounds and implies articles, video and audio materials preparation about the following fields: literature, history, arts, philosophy, psychology, religion, etc.  
The journal together with consultant pedagogues will educate and prepare pupils.  Some pupils will be selected as editors-in-chief and issue  editors, columnists and journalists. Two issues will be made issued annually.
30.09.2022 – IB Mthiebi joined Europe School Sports international day.
Interesting day of sports activities has been scheduled for elementary and basic school pupils within framework of this project.
03.10.2022 – STEAM education system updating has begun in IB Mthiebi. STEAM is synchronized learning approach, which requires purposeful connections and standards evaluation among lesson models. STEAM genuine experience contains two or more scientific, technological, engineering, mathematical and art standards, which shall be taught and assessed among each other.    
STEAM education important components are search, cooperation and process based teaching.  The project is intended for the 10th and 11th grades technical subjects teachers, they will study robotics, business modeling and business English.  The project was created by IB Mthiebi higher school managing team, managed by Director of the School Ramaz Paresashvili and Exact and Natural Sciences School Manager Paata Dumbadze, while the following persons have been invited as consultants and pedagogues for this project: 
Diana Aslamazishvili – Doctor, Georgian-American University Business School Professor, T & d expert, virtual trainer, human engineering and management, IB Mthiebi technical subjects  STEAM education invited consultant; 
Avtandil Mgebrishvili – Ilia State University Technological Enterprising and Innovations Development Centre Head, IB Mthiebi Technical School STEAM education consultant;  
Tornike Dadiani – Architect, IB Mthiebi Arts Chair Head;
Nana Migineishvili, Nana Kobakhidze – IB Mthiebi Natural Sciences Chair;
Tina Mgeladze – IB Mthiebi Higher School calculus teacher;
Nino Khuberashvili – IB Mthiebi Higher School business English teacher, Doctor, Caucasus University Lecturer.
04.10.2022 – For IB Mthiebi Higher School final grade teachers the following meetings were conducted within framework of the University Hour: 
For humanitarian subjects teachers: movie show and discussion for critical thinking development with Marjanishvili theatre Director Temur Kuprava;
For natural subjects teachers: meeting with Caucasus University Medicine and Healthcare Faculty Dean Giorgi Makharashvili on the theme: Healthcare Policy;
For technical subjects teachers: show of movie "Atomic Habits Development" under James Cleary's book.
06.10.2022 –  IB Mthiebi 8th grade 10 students have been participating in Erasmus+ youth exchange program "Tolerance Rules", the venue locating in Croatia.
Within framework of the project IB Mthiebi organized the school students meeting with Ministry of Foreign Affairs International Legal Department Director Irine Bartaia who conducted conversation on the theme: European values and Human Rights. 
The abovementioned meetings helped the students to enhance their knowledge on these themes, to be active in the debates conducted with their peers and to be able to express interesting judgment on relevant issues.  Salome Chkheidze and Giorgi Bakhtadze  were involved in these meetings organization.
Thank so much the Ministry of Foreign Affairs for cooperation.
07.10.2022 – According to the Memorandum executed between "Spectrum" College and IB Mthiebi, students of 11th grade choose short-term university courses and master up various professions where students' concern and involvement plays the important role.  60 statues of the eleventh grade have been involved in this project this year.
Today Director of Spectrum College Mate Tikadze met 11th grade students of IB Mthiebi and talked to them about importance of professional education and its special role in their future career.
Our students will spend interesting days in the college for next three months where they will be taught by Director of the college and his colleagues.
Thank very much Spectrum College and Mate Tikadze for cooperation and important contribution they made to our students' education.
07.10.2022 – Today  international educational exhibition was held in IB Mthiebi, which was organized by American-Georgian Education Centre LEAD and our school;  within framework of the meeting students of 10th, 11th and 12th grades of our school met representatives of universities from various countries of the world. Students of the high school had opportunity to get data about universities, their programs as well as information in relation to study abroad and financing of that. As a result in IB Mthiebi  basis was created for collaboration among European and American universities.  
CBS International Business School;
Audencia Business School;
Webster Vienna Private University;
Dundalk Institute of Technology;
Jacobs University Bremen;
The Academy of Mathematics and Science – AMS;
Tio university of applied sciences;
IE University.
08.10.2022 – Today IB Mthieb hosted parents. They met with elementary, basic and higher school managing teams, mentors and various subjects teachers. Program presentations were held when parents got data about academic topics, the mentoring system, motivation projects and activities, daily regime operation and importance of that.   
10.10.2022 – For IB Mthiebi Higher School final grade teachers the following meetings were conducted within framework of the University Hour: 
For students majoring in humanitarian sciences: the panel discussion was conducted about human rights and children's rights, which was held by Mariam Melkadze- lawyer, the project coordinator, Ilia State University human rights division.  
For students majoring in natural sciences: visit to Natalia Kvantaliani's blood bank was planned where Medical Director Marine Sreseli talked with students about the blood bank activities and importance of those as well as she talked the students about the laboratory activities and component preparation methods.  
11.10.2022 –  Administrative and academic personnel health condition was examined in IB Mthiebi, which was held by the School physician Shorena Rurua and invited physicians Kamila Murajova and Nana Abuashvili.
13.10.2022–  IB Mthiebi 11th grade students visited Spectrum College where they met Director of the College Mate Takidze who conducted interesting excursion for them, including infrastructure and professional programs available in the College. 
11th grade students will complete short-term certification course in Spectrum College for next three months and master up various professions proceeding from their interests.
Our students interest and involvement in this project is extremely deep.
IB Mthiebi thanks very much Spectrum College teachers and Director Mate Tikadze for cooperation and important contribution they made to our students' professional orientation.
13.10.2022–  For IB Mthiebi Higher School final grade teachers the following meetings were conducted within framework of the University Hour: 
For students majoring in humanitarian sciences visit was scheduled to GIPA University where International Relations Expert Ekaterine Chavchanidze met the students and talked about international relations as a profession and employment perspectives as well as skills necessary for this profession. Interesting workshop was conducted during the meeting.
For students majoring in natural sciences Medical Doctor and Georgian National University lecturer Lali Kortonashvili visited IB Mthiebi who conducted with students interesting discussion on medical ethics and shared her significant practical knowledge in relation to first medical aid to be rendered in various situations.
20.10.2022 – A management meeting was held in IB Mthiebi, where current academic and administrative processes, new products and priorities, future plans and goals of the school were discussed. Also, the work management packages of elementary, basic and high schools, administrative services and departments were approved.
At the end of the session, General Director Nino Chikvaidze made a presentation of the development plan of IB Mthiebi, which she should present in a few days, together with Financial Director Ana Javakhishvili, at the IB headquarters in Frankfurt, at a meeting with partners, within the framework of the development prospects project.
20.10.2022 – The visit of the students of the graduating class of the natural sciences department of the IB Mthiebi High School to the Lugar laboratory was very interesting.
Within the university hours, they were hosted by Gela Mgeladze, the biosafety manager of the laboratory, who gave the students a tour of the Lugar laboratory, introduced its history, the specifics of its activities, and its main directions. Such experience is especially important for those students who intend to continue their studies in universities in the medical direction.
21.10.2022 – Students of the humanitarian direction of IB Mthiebi get to know the professions that are interesting to them
The students of the graduating class of the high school, who intend to continue their studies in the field of law, criminal or civil law, got to know the specifics of working in this field within the university hours and visited Tbilisi Educational University named after Guram Tavartkiladze, where the students were hosted by the Dean of the Faculty of Law, Professor Givi Lobzhanidze and the The head of the faculty's quality assurance service, Professor Nino Bochorishvili. They talked to the students about the professions and main activities of the law field. Also, a course of practical investigative actions was held for students in the forensics laboratory, which was conducted by the head of the forensics laboratory, Davit Chagunava.
21.10.2022 – The students of the technical direction of IB Mthiebi are deepening their knowledge in the field of technology.
A visit to Alte University was planned for the students of the graduating class within the university hours, where the students were hosted by Nana Dikhaminjia – director of the Digital Transformation Center of Alte University, professor of electrical and computer engineering, who gave a lecture on the topic: Modern world – technological changes and their role in our daily life and various professions, computer Engineering and machine learning as a new professional opportunity.
21.10.2022 – In the elementary school of IB Mthiebi, an educational integrated project "My School" was held for 5, 6 and 7-year-old students, within the framework of which the students got to know and see the school environment.
Within the framework of the project, students met the school principal, from whom they received symbolic gifts. They visited the library space, sports hall and cafeteria, visited the doctor's and psychologist's office, the high school and the natural sciences laboratory hosted small students, where they conducted fun scientific experiments.
Within the mentioned project, students acquired social and public relations skills in a foreign environment.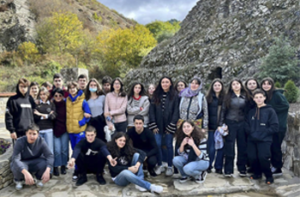 24.10.2022 – A sports-relaxation day was planned for the students of IB Mthiebi High School within the framework of the "Around Georgia" project.
Within the framework of the project, the students visited the sights in Sighnaghi, the cultural monuments of the Armazi valley and the Dzama valley.
Under the leadership of the Department of Sports, various sports games were held
The goal of the project is to familiarize the students with the sights, experience participating in a hike and expedition, maintain ecological hygiene at the end of the hike, and clean up nature.
25.10.2022 – "See the future" – a new project of IB Mthiebi for high school students:
Within the framework of the mentioned project, Tinatin Berdzenishvili, General Director of Public Broadcasting (Pirveli Arkhi) visited IB Mthiebi today, who held an interesting meeting with students of humanitarian school.
The meeting was aimed at in-depth introduction to television professions, showing the format of practical work directly in the television space, how programs are made, how television and radio work, who are the people who provide broadcasting and what is the modern world adjusted television and journalist profession.
Today's meeting also laid the foundation for future cooperation between IB Mthiebi and television.
The organizer of the meeting was Gia Murgulia, a consultant and teacher of the Humanitarian School of IB Mthiebi, as well as a member of the Supervisory Board of the "Pirveli Arkhi".
26.10.2022 – Within the framework of the "Become an author" project of the transit school of IB Mthiebi and the "Dialogue with the author" project of the library, students of grades V-VI hosted Tamar Gegeshidze, the author of preschool bestsellers, in the library and classrooms.
The writer answered a lot of interesting questions of children and talked to them about the way she turned from a reader to an author.
31.10.2022 ISO 45001 labor safety and healthcare external audit was conducted successfully in IB Mthiebi, and it was evaluated in strict accordance to international standards. Audit evaluated the following:
The school compatibility to labor safety norms,
Labor safety and healthcare protection system,
Safety norms, material resources, and sanitary-hygienic norms compliance as well as transport infrastructure,
Medical inventories and the usage norms,
Compliance with food safety regulations,
Incidents management, activities conducted and description documentation,
Annual and future activities plans, in relation to the abovementioned appropriate meetings were conducted with: 
IB Mthiebi General Director Nino Chikvaidze,
Quality and Development Manager Salome Chkheidze,
Elementary, basic and higher schools managing teams,
The school administrators, the office manager, the physician, the psychologist, the daily regime manager and the catering chief.
November
December
January-February
March